Published on
Progress Report 2022 to 2023 - What a ride
Progress Report 2022 to 2023
It's been over a year since our first blog post and in that time, we've made some major improvements and additions to Firefly. This blog post is going to go over all the major updates from the last year, but if there's one takeaway we want you to have it's that Firefly officially launched and the app is available on the Apple App Store and Android Play Store!
This blog post will focus on the improvements we have made to the app over the past year with a brief look at what's to come for Firefly. We have more blog posts in the works that will cover technical updates, future planning, and more, so stay tuned!
Progress
Onboarding - A More Inclusive Experience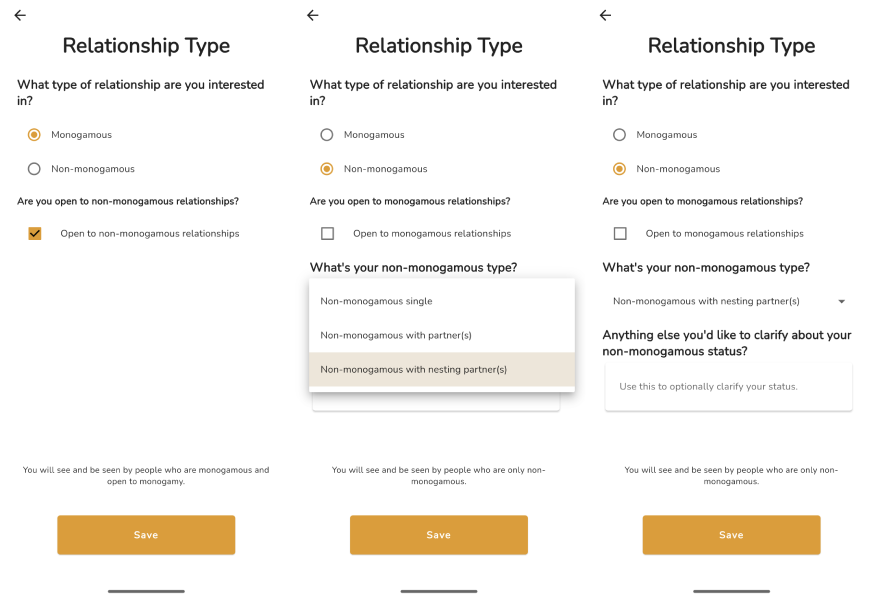 Onboarding is a user's first experience with Firefly, and we've made some more inclusive additions based on your feedback. We've added more sexual orientation types to choose from during the onboarding experience and also have a space to write-in yours if it isn't listed.
Another significant inclusion is allowing users to specify if they're in a non-monogamous relationship. Adding this option created a domino-effect of feature additions you can read about later in this post. We are so excited to be a dating platform that everyone and anyone can use!
Discover - Customized For You
You have the ability to sort the users appearing on your Discover page that meet your filter settings. You can sort by "New" which allows you to see recently added accounts or, if you want to see who has recently used the app, you can sort by "Active". These sort options allow you to keep your Discover page fresh, increasing your chance of finding new matches!
Our monogamous and non-monogamous users are able to opt in to view each other, expanding your horizons on what makes a perfect match. However, addressing a concern from our non-monogamous users, we've ensured that you can choose not to see users who are open to both relationships. We hope this allows you to take control of your wants and needs in a possible relationship match!
Quizzes - Digging Deeper Into Compatibility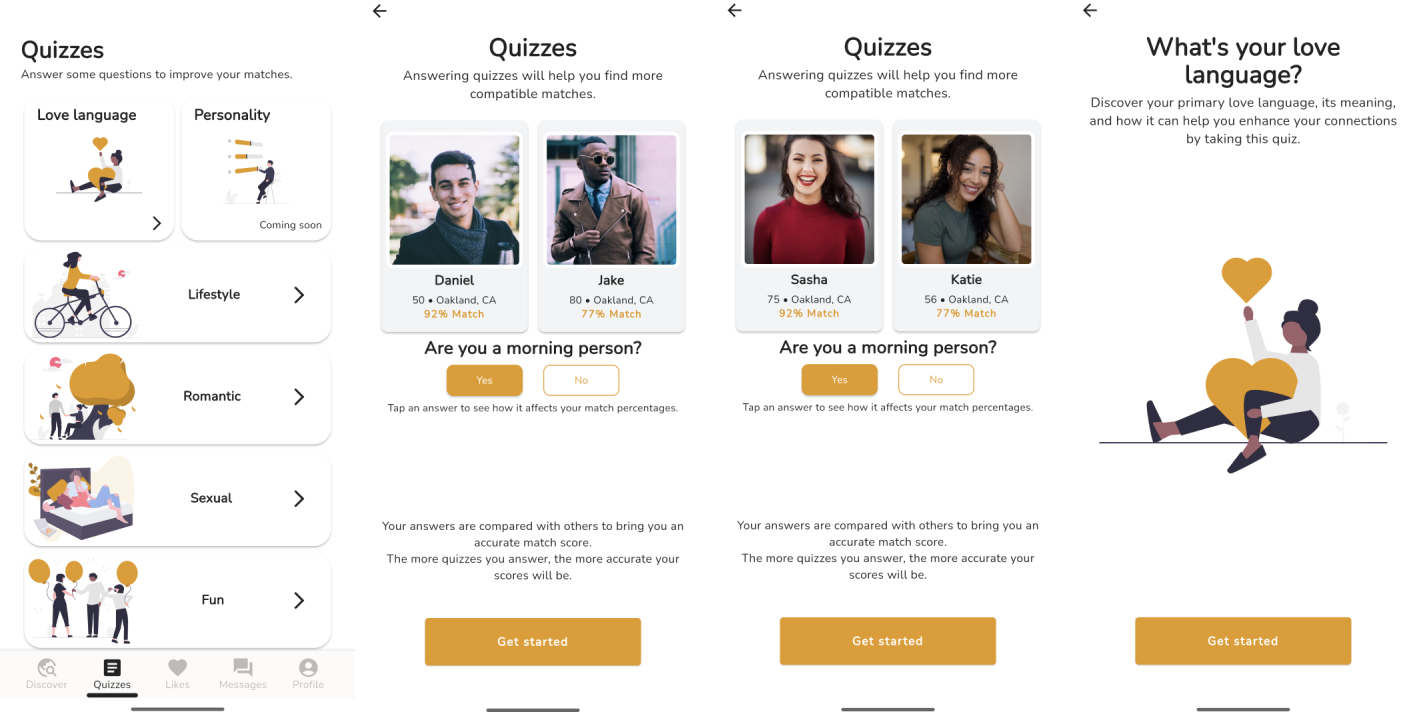 Our match percentage algorithm has undergone rigorous testing, and the feedback has been overwhelmingly positive. We've expanded our question bank to over 100, and the more questions you answer, the more accurate your match percentages. We plan to continue adding more questions, and even have a fun feature on the horizon we'll talk about later in this blog post.
Some of our questions might feel too intimate to share with anyone on the app, and we understand the need for privacy. So for questions in the Sexual category, you can mark your answers as either private or visible only to your liked profiles. This ensures that while your match percentage remains accurate, your answers remain your own.
We're also thrilled to introduce our love language questionnaire. Knowing your love language and matching it with potential partners can profoundly enhance compatibility. And stay tuned - a personality type questionnaire is on its way!
Likes and Messages - Streamlined Communication
In the Likes section, you now have two tabs: one showcasing your likes and the other displaying those who've liked you. Use the "Your Likes" tab to refer back to the profiles you liked and see who you made a good first impression on in your "Liked By" tab. Nervous to message someone first? Try messaging someone in your "Liked By" tab - they've already liked what they've seen so far!
At Firefly, we are intent on limiting spam accounts and protecting your peace. Messages have been bolstered with safety features. In other apps, spam accounts or a match turned sour because you aren't replying to them can flood your inbox. To prevent spamming, a user cannot send a second message until there has been a reply sent. And of course if you've already sent a reply and a conversation goes out of line, you have the ability to block and report users straight from your messages with them using the 3-dot menu in the upper right corner.
Profile - A Canvas of You
For an app like Firefly, your profile is everything! Outside of your photo on the discover page, your profile is your first impression to potential matches, so we want to help you make it the best it can be! We've added free-form questions, allowing you to share more of yourself to your potential matches.
For our non-monogamous users, we now offer the ability to link profiles with other users, with no limits on how many linked profiles you can have. We know joint accounts have been made in the past, but you are your own individuals! We encourage you and your partner(s) to create separate accounts and link them for the best experience.
A Glimpse into Firefly's Growth
Legend: Orange line is count of total users. Green line is trend.
While we'll dive deep into our growth journey in a future post, here are some quick stats. We're 850+ users strong and growing daily, with up to 18 new members in a day, and this is largely thanks to you, our users! We've experimented with different types of advertising, but the best quality profiles come in when you mention us to your communities online and in real life. We're continuously experimenting to fuel this growth further, but a huge thank you if you've told anyone about Firefly! We couldn't do this without you.
Sneak Peek - What Lies Ahead?
Our journey is far from over. Some of the exciting things in our pipeline include web browser support, introducing more filters for match discovery, a community page for quiz suggestions, feedback on profile photos, the ability to add more pictures to your profile, and a referral program.
As we mentioned, we plan to release blog posts more frequently that dive into Firefly's technology, decision-making processes, and asking for your feedback. Stay tuned!
Stay Connected
We believe the best products are made with community interaction and your feedback has been imperative in making Firefly the best it can be. We're more committed than ever to provide you with a robust dating experience.
There are a few ways to stay involved in the Firefly community. To follow our progress, provide direct feedback, and get updates when a new blog post is out, join our newsletter, subreddit, and Discord.